Your YouTube Account Can Be Deleted, Any time, Without Warning!
AUTOMATICALLY BACKUP YOUR
YOUTUBE VIDEOS, SETTINGS,
& RECOVER THEM AT THE
PUSH OF A BUTTON!
Finally! Brand new tool PROTECTS and SAVES the
YouTube videosyou can't afford to lose!
Cloud-based syncing... store your videos safely and privately on your S3 or Dropbox accounts, without clogging up your hard drive

Save everything... backup your videos, titles, description, captions, stats and even your channel settings, nothing is lost!

Set and forget... TubeSync automatically backs up to 100 of your channel's videos, including new videos that you add, giving you protection, 24/7.

Local backup... download and store videos locally, perfect for editing.

Rapid restore... quickly restore all your videos, channel settings, captions, titles, descriptions and tags to a new YouTube channel in seconds!

Massive protection... Store and restore up to 100 videos per channel, including your channel settings and video data, automatically!
Over 835.12 GB of Videos Have Been Backup Using TuebSYNC in Last 6 Days!
Have You Backed up and Protected Your YouTube Channel Yet?
"Striking out of videos is a very real issue and every video marketer's worst nightmare. TubeSync is absolutely essential for anyone into creating videos, for personal or professional purposes! Protection of intellectual property is a basic necessity. We just backed up 85 GB of videos from our YouTube account – videos that only now exist on YouTube (from 5 years ago!) All at the push of a button. This is good – I'd strongly recommend everyone to do the same!"
Neil Napier
CEO - KVSocial
"We backup everything. From files on our laptops to websites on our servers and everything in between. But there has not been a solution to backup YouTube channels and videos till date. Getting all your videos deleted accidentally or by YouTube for some reason can be a nightmare. With TubeSync, we're not able to backup that and easily restore if something get deleted. You need to be using this even if you're just getting started. This is a must have tool, just like web hosting."
Karthik Ramani
Founder - MemberHub
"I run really valuable channels and it's nightmarish to think that I can ever be caught without a backup. TubeSync is great, reliable and the best part is that it comes without any heavy or complex software. Because if I want to access my videos from anywhere, I don't want unnecessary delays that downloading software and programs bring. I love the convenience and sense of security that it's infused into my business."
Cyril 'JEET' Gupta
Founder/CEO - Tekniforce
"Videos are so important and loosing your accounts accidentally is a nightmare. I've known people who lost their entire YouTube account accidentally and their revenue went zero in a day. With TubeSync, I can say things chance. Having a well protected backup of your entire account, including settings and meta data is life saver and VERY crucial. I highly recommend this."
Han Fan
Top Video Marketer
Warning:

YouTube is tearing down
people's videos & terminating their
channels without warning, and you
could be next...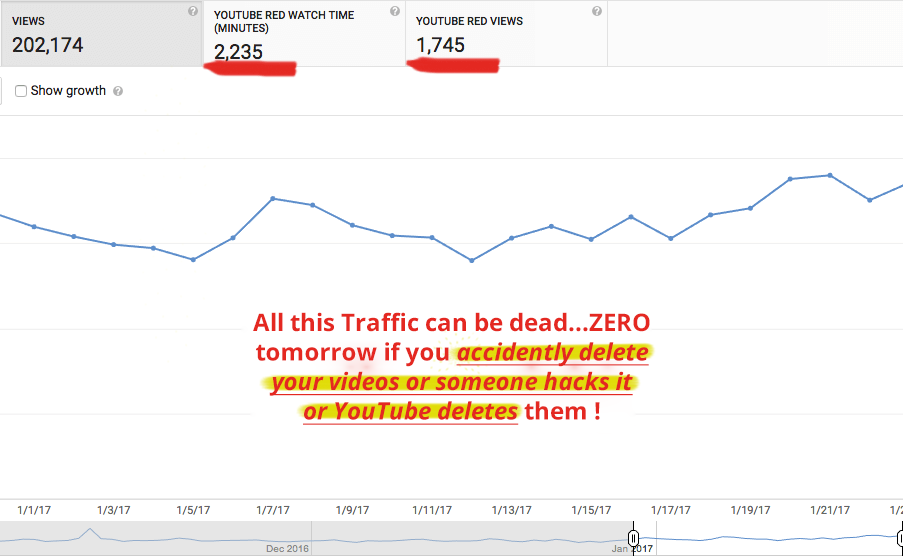 It's true...

... YouTube is notorious for taking down people's videos, and sometimes their entire channels, without warning.
Sometimes it's for a good reason (like you've stolen other people's content...)

... but often it's for no reason at all.

It only takes one false complaint about your videos, and suddenly, some over-zealous kid at YouTube HQ is ripping down your video, or even your entire channel... just to be "safe."
That's Weeks, Months, Sometimes

Years

of Hard Work,
All Down The Pan!

All your videos, GONE!

Along with all the meta data, the headlines, description, tags, captions... all gone, in one foul click.

But this doesn't have to be you.

You can protect yourself quickly and easily right now, with...
Backup & Restore Your YouTube
Videos, Channel Info, Data & Stats, In
Just a Few Simple Steps...
Step1
Log into your dashboard
Step2
Choose what you want to back up, and where
Step3
TubeSync automatically backs up your videos, channel settings, data, captions, tags, titles and descriptions, direct to your chosen cloud account (and can even backup new videos you upload to YouTube, automatically.)
Step4
Restore your videos - or your entire channel data - to a new channel, at the push of a button (and instantly save hours or even days of backbreaking work.)
Unbeatable Protection For
Your YouTube Channel...
| | Other services... | TubeSync |
| --- | --- | --- |
| Local download | YES | YES |
| Cloud based (S3 and Dropbox) | YES | YES |
| Backup up to 100 videos in your YouTube channel (inc descriptions, captions, titles, tags) | NO | YES |
| Auto backup new videos | NO | YES |
| Restore entire channels and videos to a new YouTube channel | NO | YES |
| Unlimited backups and restore | NO | YES |
| | Average price:$19 per month | $42.95 only today - no recurring fees right now! (Hurry, price increasing very soon!) |
Nobody wants
to think about it...
...but the scary truth is...
...people's videos - and entire YouTube accounts - are getting taken down every single day, without warning.
Whether it's due to a complaint, or something that the "YouTube gods" deem unacceptable...
...you never know when your hard work could be ripped from underneath you.
Just Imagine If this Happened To You...
You've spent months creating and uploading videos, carefully writing titles, descriptions, tags, and captions...
...then one morning, you wake up...
...and you see this:
and this..
Your heart sinks.
Your stomach flips.
Your jaw drops.
Your eyes widen in disbelief.
It's all GONE.
All that hard work.
Dust.
You frantically open a support ticket...
...but deep down, you know they're not going to reply for days, and when they do, they're gonna give you some B.S line about their policy and how you violated it.
Your only option is weeks of agonizing work, creating new videos, uploading them, one by one, trying to remember the titles, descriptions, captions, tags you used...
... and honestly, you feeel like throwing in the towel.
We Know How It Feels,
Because It Happened To Us!
In fact, we've had a couple of our YouTube accounts suspended (and even terminated) without warning. And the worst part?
Videos & Channels Were WIPED
OFF THE FACE OF THE EARTH...
(...even though YouTube admitted
they made a mistake!)
If you think that you're safe because you're "playing by the rules" then think again...
...because YouTube can - and often will - just KILL your channel, along with all your videos that you've poured blood, sweat and tears into - EVEN if you've done nothing wrong.
Just think, are you willing to put all your hard work...
...all your traffic...
...all your potential income...
...into the hands of some nerd at YouTube who decides to wipe out your channel along with ALL your videos, by MISTAKE?
That's why we've taken a stand...
...and finally doing something to protect ourselves and people like you from this very real threat.
And that's why we created TubeSync...
...allowing you to instantly get all your videos, data, settings back up, on a new channel, and never have to worry about some "trigger happy" staff member at YouTube from wiping out all your hard work.
With TubeSync, you can automatically backup and instantly restore all your videos, settings and even channel data, safely in the cloud.
And it's so easy, too.
Backup 100 Videos
Per YouTube Channel
now secure up to 100 videos on every YouTube channel owned by you or your client. Once a channel is synced with TubeSync, it automatically archives any new videos you may add thereafter. No more sleepless nights over losing any videos due to false complaints.
Restore Videos Back To
Your YouTube Channel
no need to panic if YouTube blocks your videos or you accidently delete your videos. Just with a click of a button, you can restore all your videos back from TubeSync to your YouTube channel.
Share Videos With Any
Other YouTube Channel
you can now transfer videos easily from one YouTube channel to another. Now share your videos faster by transferring them between channels with a mouse-click.
Backup Titles, Descriptions,
Captions, Likes etc.
losing a video is a big loss. But an even bigger loss is when you lose all your stats. The subscribers, likes, captions and titles. TubeSync updates these stats in real time. TubeSync takes a backup of not just your videos, but everything connected to them as well.
Bulk-Download
Your Videos
access TubeSync on-the-go by just logging in from anywhere in the world. With one click, you can download all your videos individually or in a bulk to any laptop, pen drive, hard disk etc.
Sync It With Your S3, Dropbox,
Google Drive Or OneDrive
with just a couple of clicks, TubeSync connects to your S3, Dropbox, Google Drive or OneDrive account. Now all your videos along with the corresponding data is secure in your own preferred storage platform.
Manage Your Files
now upload all your files and data on Data Manage and access the content on your computer from anywhere in the world from any laptop or mobile device. All you need is an internet connection and you are good to go.
Watch In Real Time, As We Quickly
Protect & Restore Our YouTube
Channels, In Seconds...
Can You Really Afford To Risk It?
Can you afford to risk losing all your videos amd even your entire channel, overnight, without warning?
How much traffic, leads and sales would you be losing if that suddenly happened to you?
Just think of all the time and money it would cost you to recreate and upload all those videos - with all the same titles, descriptions, settings and captions from scratch?
Why risk it?
For just one small investment in TubeSync today, you never have to worry about all your hard work getting ripped away from you.
No more worrying if - or when - your YouTube videos will get taken down, and your channel blocked, cutting off your traffic supply.
No more manually downloading videos to your hard drive and uploading them to your cloud storage account every single day, week or month.
No more days or even weeks of manually creating and uploading your videos to a new YouTube channel by hand, trying to remember all the titles, descriptions, captions. Just total piece of mind, knowing that your entire YouTube channel - including all your videos - are safely and automatically backed up, 24/7.
Your Ultimate YouTube Safety Net...
| | Other services... | TubeSync |
| --- | --- | --- |
| Local download | YES | YES |
| Cloud based (S3 and Dropbox) | YES | YES |
| Backup up to 100 videos in your YouTube channel (inc descriptions, captions, titles, tags) | NO | YES |
| Auto backup new videos | NO | YES |
| Restore entire channels and videos to a new YouTube channel | NO | YES |
| Unlimited backups and restore | NO | YES |
| | Average price:$19 per month | $42.95 only today - no recurring fees right now! (Hurry, price increasing very soon!) |
One-time payment. No monthly contracts.
To Your On-Going Success
Abhi Dwivedi
Paul Blitz
One-time payment. No monthly contracts.
Every effort has been made to accurately represent our product and it's potential. Any claims made of actual earnings or examples of actual results can be verified upon request. The testimonials and examples used are exceptional results, and don't apply to the average purchaser and are not intended to represent or guarantee that anyone will achieve the same or similar results. Each individual's success depends on his or her background, dedication, desire and motivation. As with any business endeavor, there is an inherent risk of loss of capital and there is no guarantee that you will earn any money.